Contributed by Loree Cameron, Certified Senior Advisor | Sunrise Services | Fall/Winter, 2020
 I wasn't expecting the phone call. In one moment, the caregiving responsibility was over. Just like that, she was gone. It all started six years before, when dementia ravaged her brain. It had been coming for some time, we just didn't understand the signs; in reality, denial hadn't allowed us to see the clues even when they were obvious. By the time we realized how far the disease had progressed, we were behind the eight ball.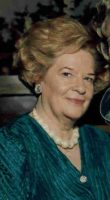 How do We Protect Her?
The attorney advised us to document her lapses, but our chances for guardianship were slim, "Unless she is a proven threat to herself or to others, the State will not step in.
"You mean to tell me overdosing on blood thinners because you forgot you've already taken your medication is not a proven threat? How do we protect her?"
Tough Love
Tough love is an easy discussion topic, in theory, but who could imagine tough love would entail involuntary commitment to a state mental hospital? I participated in the gathering of information to prove her inability to make sound decisions before the court. I distracted her while my husband discussed the illness with psychologists and lawyers in hushed whispers. I sheltered my children from the mental decline of their grandmother. I watched the emotional turmoil take its toll.
Never Truly Prepared
My husband had been chosen as her Durable Power of Attorney. Like many of us, his mother placed her future care in his capable hands years before when her mind was clear and free of paranoia. As he wrestled with the conflicting choices between protecting her autonomy and her long-term well-being, I learned we are never truly prepared. Who wants to put mom in a mental hospital or a nursing home? Who wants to listen as she asks, "What did I ever do to deserve this?" Those words haunt you as you struggle with your own desire for relationship. The avalanche of frustration that comes as she declares "You're not the boss of me!"  You wonder, will I remember the good or will those memories be forever eclipsed by the struggle?
"I miss her."
"I miss her too."
Loree Cameron, Senior Transitions Program Coordinator
Sunrise Services
ABOUT THE AUTHOR
Loree Cameron is a Certified Senior Advisor® and writer. Her personal experience caring for her own family, coupled with her work experience and supplemental study, has given Loree a unique perspective; her compassion will help you know you are not alone.
ABOUT SUNRISE SERVICES, INC.
With over 40 years of experience helping vulnerable adults, Sunrise Services provides an extensive network of community supports to help you find solutions that last. Let us help you with the list, so you can enjoy the moments.