A common myth among homeowners is that their home has to be totally renovated or updated before listing it for sale. While it's important to present a home in good working condition, with all systems functional, there's no requirement to spend thousands of dollars on modern updates. A buyer may want your home just the way it is!
Prep Your Home: Make it Shine!
There are many ways to make your home shine that can be done on any budget, without the hassle, stress, and expense of a renovation. The following are simple steps to prepare your home for sale, so buyers will fall in love!
First, empty out the rooms as much as you can, down to basic furniture and décor. You'll have to sort and pack up household items for moving soon anyway. We recommend that you do most of this packing before the photography for your listing. Donate to charities, give large items away to friends and family, and sell the valuables. Packed boxes can be stored in the garage or offsite. Decluttering will make rooms feel more spacious and open, greatly enhancing the online property photos that are essential for bringing buyers to come tour your home.
Second, do a deep cleaning of the home. This can be done by hired professionals, helpful friends and family, or with some elbow grease of your own. It's so beneficial to the presentation of your property, as buyers tend to look at every nook and cranny. Ask the cleaners to scrub the windows, cupboards, ceiling fans, drawers, tubs, closets, oven, floors, light switches and faucets, and everything else that will be visible to buyers. It makes the house smell clean and fresh, and pays off handsomely in your sale price!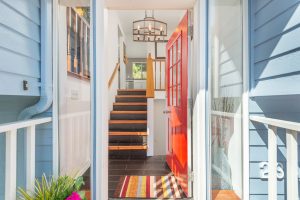 Third, make the front entrance to your home warm and inviting for a great first impression. This may mean a coat of paint on the steps, a pot of blooming flowers to one side, a welcome sign, a newly stained front door, or a new doorknob. It's also a good idea to get a nice new doormat for your front door that welcomes buyers to your home.
Natural Light
Finally, allow as much natural light as possible. While living in the home, homeowners tend to have blinds, drapes, and curtains for privacy. But these can make a home seem dark and small when listed for sale. Wherever possible, open blinds all the way to allow light in the room. Pull back curtains or remove heavy drapes. The natural light will make rooms seem larger, more cheerful, and more open.
Prep Your Home for Little Cost
In any month of the year, in any market, in urban centers or rural farmlands, you can prepare your home for sale for very little cost following these simple steps. If your home is light, bright, clean, inviting, and decluttered, it won't be long before someone falls in love with it and makes an offer to buy it!
Do you have real estate questions? Trust the experience, professionalism, and outstanding client care of SASH. We've proudly served Northwest homeowners since 2005, earning an A+ Rating with the Better Business Bureau. Our team members can provide a complimentary market analysis of your home, as well as home sale options tailored around your specific needs and goals. Visit us at sashservices.com!