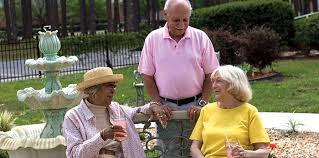 Retirement Communities are one type of the variety of senior housing choices. Some of the senior housing terms include: Independent Living, Retirement Living, Assisted Living, Memory Care, and Skilled Nursing and Rehab. Retirement Communities consist of private apartments rented to seniors. Some offer three meals per day. Activity programs and housekeeping may be provided, but residents are capable of independent living. This level of housing does not accept Medicaid funding, which makes this housing for private payers only. A Retirement Community is maintenance free to seniors. Consider the four following advantages of this style of living.
1. No More Home Ownership Blues
Living in a Retirement Living is a great way to go for those who want a break from home ownership stresses. Some seniors have been taking care of their home for 30, 40, or 50 years! It may be time for a well-deserved change of pace. First, think about the maintenance and upkeep of the home. How about painting or annual gutter cleaning? Next, consider the weekly lawn mowing in the spring and summer seasons here in the Northwest. Sometimes it is wet and sometimes it is hot. Good for us? Well, yes, when we are young. But what about those who have taken on some arthritis or a shuffle to their footfall? As we age, mowing a large lawn and pulling weeds are risks that outweigh the advantage of owning a home.
Retirement Community Living is for independent people who want to put the outdoor upkeep and bigger house cleaning tasks behind. Take that a step further and surrender those cooking chores! What if you like cooking? The good thing about living in a retirement community is that the choice is yours to make. You decide if you want meals in your rent package. If you feel like you are finished with the house upkeep, this living style is for you!
2. Retirement Communities Improve Your Social Life
The American Seniors Housing Association says that, "Staying socially connected and feeling engaged with life becomes more important as we grow older, and not just for mental health reasons. Isolation is a serious health risk for older adults. We now know that people who don't or can't maintain connections with friends, family and neighborhood will experience greater numbers of chronic and life-limiting health problems, such as heart disease, diabetes and cancer."
For many people who move to a Retirement Community, their social life improves! Just like cooking, those choices are yours to make. Usually there is a large commons area where residents can gather together for card games or enjoy a morning coffee together. Some people in retirement living arrange for movie viewing together. In addition, there are often planned outings for shopping or recreational trips. This is a huge bonus if you are no longer driving! Many of these communities have private areas where you can schedule a time to host family gatherings or spend time with friends outside of your apartment. Of course, you may also choose to spend your social time in the spaces of your own apartment. In Retirement Living, these choices are yours!
3. Retirement Communities Help You Control Expenses
Consider financial issues involved in home ownership. First are the big ticket costs of home repair, including roof repairs, gutters, plumbing, light fixtures, and appliances. Second, consider the costs of home owner's insurance. Also, don't forget that there are the property taxes that loom over home owners. Downsizing from a house can help you take better control of monthly expenses, because your costs are fixed. Furthermore, there are maintenance specialists who can help you when you need them. Home maintenance repairs are included in your monthly package.
4. Retirement Communities Offer Healthy Lifestyle Choices
Many seniors maintain better health in a retirement community than in their own house. This is because of more options available. For example, there may be fitness classes available to you without a drive to the gym. Find like-minded friends who also want to exercise or walk.
When you live in a house alone, it is tempting to get careless about well-rounded, regular meals. Although it is easier to heat up a bagel or boil a pot of pasta for most meals, this simplicity is not well-balanced! However, when someone else is cooking and offering a variety of nourishing food, you eat better and you feel better. And, yes, a toasted bagel would still be offered for those who like bagels!
Consider Retirement Communities
If you live alone you may want to research your Retirement Living options. To get you started, see a list of our local housing communities and their contact information: Independent and Retirement Communities. With Retirement Communities, your housing needs are met, expenses are fixed, and healthy lifestyle options are easily available!
Christine Blankenship, Editor
Copyright © 2019 Vibrant Senior Options, LLC