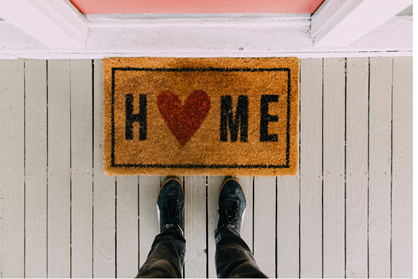 Inexpensive fixes for everyday dangers
Many of us plan to live in our homes for a long time. It's important to make sure yours is safe for today and tomorrow. It's never too early to start. Take the time to look around to see if there are places that can reduce danger. Walk through your home, come in from the outdoors and look for areas that can be improved. Safety saves lives, both young and old.
Studies show that over 75% of homeowners over the age of 50 want to stay in their homes after retirement. Therefore, creating a safe environment is essential for success. One of the top reasons Seniors go to the emergency room is because of unnecessary falls. These accidents can be prevented with safety improvements to the home.
Here are a few inexpensive and quick enhancements to make your home a safer place to live.
Stacks of books, piles of paper, pet toys and loose cords on the floor create tripping hazards. Also, small rugs, especially in the kitchen and bathroom are accidents waiting to happen. Getting things off the floor or organizing them in baskets that can be put away can help eliminate future accidents. In addition, make sure that cords for the tv, computers and floor lamps are out of traffic areas. Don't use small rugs if possible.
Keep Your Home Safe with Good Lighting
Reading and hobbies need good lighting. Floor lamps near chairs and work spaces, with cords out of the way, help make reading and tasks easier. Using under cabinet lighting in the kitchen increases visibility for cooking tasks. There are inexpensive and attractive battery operated lights that stick onto walls and cabinets for optimal visibility.
A lot of people don't know that our household batteries and filters need to be checked regularly. I like to check the batteries in my smoke alarms every 6 months. For example, things like filters for the furnace, dryer and kitchen appliances should be checked according to the manufactures' schedule. Checking the bulbs on your outdoor lighting can help you be prepared for any visitors.
Keep Your Home Safe with Good Communication
Make sure that you can contact someone in case of an emergency. These days, technology offers many solutions. Smartphones can be set to respond to a voice command and call a responder. Moreover, you can ask your iPhone to contact someone by saying "Siri, call Susie". If you have Amazon's Echo products, ask Alexa to call a friend on your contact list.
Making sure that your guests are safe by keeping your steps and walkways clear and clean is always a good idea. That being the case, provide good lighting for the entry and make sure that your address is easily seen from the street so that first responders can get right to you if there is a problem. Big numbers, reflective paint and well-lit signs can also help.
Staying at home after retirement is the plan for many of us. It's important to keep it safe for you and your family. Use these tips to find inexpensive ways to improve your house. When you minimize tripping hazards, provide good light, keep walkways clear and find ways to communicate easily, you are making your home safer. Be vigilant and stay safe.

Susie Landsem is a Certified Aging in Place Specialist. She provides design and building solutions for people who want to stay in their homes safe and independent.
Phone:  (360) 220-4980
Visit Website: Aging In Place By Design