Lookin' at Life | by Vicki McCarty, Care Tender Ministries
M‌aybe it's because I was born in a place in the badlands of North Dakota called Sunny Slope, the last place in North America where the dinosaurs roamed. Being born during the dust storms of the early 1930's, described by Timothy Egan in his bestseller as "The Worst of the Bad Times," certainly didn't seem to be a cheery and happy beginning time. Having face muscles that gave a sad look to my countenance didn't help. It took me a long time to figure out why people always asked "what's wrong?" I don't smile a lot – but I'm happy inside. My high school chums must have seen that, because they used my initials to coin the name "Very Merry" for me in our yearbook. I was rather like Pollyanna – I liked trying to find the good in life. But, sometimes you have to look for it.
Sometimes I Have to Look Harder
Every day I ask my husband "what brought you joy today?" It's easy to miss the joys when the trials of illness and caring come into our lives. Sometimes I have to look harder when  lookin' at life. Often revelation comes when I'm not expecting it. About two years ago I got up in the night for the usual trip to the bathroom. As I stood in the faint glow of the nightlight to wash my hands, I was overwhelmed with how blessed I was when I felt the hot water. Running water – hot at that – might not seem like joy to most. But for someone who grew up without running water, let alone hot water, it still is a profound blessing. We were poor in a time when there was no aid to anyone, let alone children. Yet when I recently looked at photos of the little flock of siblings, we were all happy smiles, not even realizing our clothes were all worn and about two sizes too big or small for us. It didn't matter that they were hand-me-downs. We got every drop of fun out of life we could, in spite of poverty.
Reasons to Think Life was Not good
Lookin' at Life also brought me many reasons to think life was not good: a tumble into an open cesspool at age 3; being bucked off a horse when I was 5 – no money for doctors. Thankfully, Shriner's had built a hospital for kids like me, so my badly broken arm would not remain crippled. I made the most of the hospital stay. Families didn't always get to visit, so I was there alone. But I found a partner who, like me, liked to pull pranks on the nurses in charge. A bad experience made better by finding the fun. All of life is going to be a test, but it's better to look on the sunny side than allow ourselves to be mired in the cesspool (so to speak).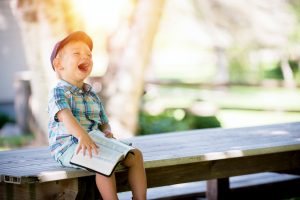 I've found that the people I've come to admire most are the ones who are always bright and happy and upbeat – eager to absorb all of life that they can. The surprising thing is that almost all of them have experienced some of life's greatest ordeals – but they are still happy, optimistic and exude joy. It is impossible not to absorb their joy. Doctors know that those who are optimistic and upbeat are more likely to overcome health problems. Their research studies have shown that singing can lower your blood pressure and improve your immune system. And, you cannot be angry and sing at the same time. I cannot imagine life without singing!
Finding the Good in Life
This idea of finding the good in life is not just my thought. There are many cliches that tell me others have thought of this. "Is your glass half full or half empty?" is one. We should not only stop and smell the flowers, we need to stop and watch the hummingbirds do that too. Even now with the change in all our lives from the COVID virus, like everyone I dislike wearing a face mask. But, I noticed myself in the mirror recently. I seem to look better with a mask, as it covers up my crooked smile AND my double chin. Now that's Lookin' at Life.
There's an old song that says it pretty good.
"Keep on the sunny side, always on the sunny side, keep on the sunny side of life.
It will help us every day, it will brighten all the way, if we keep on the sunny side of life."
Vicki McCarty wrote and published Care Tender, a newsletter for caregivers for 15 years. Along with her husband Ron, she hosted "Tea at 2" for caregivers and the ones they cared for, in addition to providing music and worship programs at local care homes and adult day programs for nearly 20 years.