Article contributed by PeaceHealth | written by Matt Benoit, Whatcom Talk Writer – Published in Fall, 2020 Edition of Vibrant Senior Options
Health issues of a colorectal nature—those dealing with the colon, rectum and anus—aren't ones people like to openly discuss, for obvious reasons. They're sensitive, sometimes embarrassing issues, but that doesn't mean you should avoid addressing them.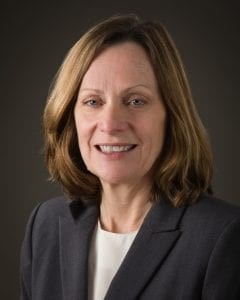 Dr. Allison Robinson is a colorectal surgical expert at PeaceHealth St. Joseph Medical Center in Bellingham. (Photo credit: Mark Turner)
At PeaceHealth St. Joseph Medical Center in Bellingham, expert surgeons can help with both the surgical and non-surgical treatment of colorectal issues. After completing both general and colorectal surgical residencies, colorectal surgeons become board-certified with oral and written examinations by the American boards of Surgery and Colon and Rectal Surgery. Afterward, they receive additional fellowships and advanced surgical training.
Dr. Allison Robinson, a retired Navy Medical Corp captain with colorectal surgery board-certification since 2005, recently joined PeaceHealth in Bellingham after more than a decade in California. She has special interest in treating inflammatory bowel disease (IBD) and rectal cancers, and is highly-trained in robotic-assisted surgery.
"I'm someone who's genuinely interested in all these problems," she says of colorectal health. "In this specialty, you really have to talk intently with your patients, examine your patients, and come up with a treatment plan with your patients. That's what this job is all about."
PeaceHealth St. Joe's, she says, is especially well-equipped to treat colorectal issues without referring patients to out-of-town locations, and she can provide a full spectrum of care.
Dr. Robinson is happy to work with a patient's gastrointestinal doctor for treatment of inflammatory bowel disease (IBD).
Robotic-Assisted Surgeries
With robotic-assisted surgeries, Dr. Robinson operates using a vision monitor with three-dimensional, magnified images. She guides robotic arms with surgical instruments, mimicking her hands movements but doing so with a greater range of motion and efficiency than would occur in traditional or laparoscopic surgeries.
Dr. Robinson says colon surgeries can be done robotically, as well as hernias and lower rectal cancer surgeries. Robotic-assisted surgery is especially helpful for the latter, because it provides the surgeon with superior vision and precision compared to other surgical methods. Whether a colorectal surgery is done with or without robotic assistance, minimally invasive procedures typically provide patients with less post-operative pain, fewer complications, and faster recovery times.
And whether your colorectal health issue is ulcerative colitis, Crohn's disease, fecal incontinence, rectal prolapse, diverticulitis, or just a hemorrhoid, Dr. Robinson says there's no shame in addressing it. Anyone with a personal or family history of colorectal cancers, or polyps, should have frequent cancer screenings.
"The hardest part is getting in the door," she says of many patients' reluctance to explain colorectal concerns. "Once you get in the door, you've gotten past that psychological hurdle of not wanting to be there. A lot of people don't want to admit to colorectal problems. They don't want to deal with it, and they don't want someone else to deal with it."
In fact, seeing a medical expert about a thing like hemorrhoids might even save your life.
"Not everything is a hemorrhoid," she says. "I've had plenty of anal cancers and rectal cancers where people thought it was their hemorrhoid."
Rectal bleeding, she adds, should never be ignored. While it could be caused by a benign issue, it could also be evidence of cancer. The only way to know, she says, is to be examined. And when it comes to cancer, colorectal cancer screenings are recommended often for anyone with a personal or family history of such cancers, or evidence of polyps.
PeaceHealth St. Joseph Medical Center offers a full spectrum of both non-surgical and surgical colorectal health treatments.
These screenings are especially important for those ages 40 and older, and include sigmoidoscopies (checking the rectum and part of colon for polyps), fecal occult blood tests (examining stool for blood), and colonoscopies (extensive colon check).
Symptoms like sustained bowel habit changes, blood, steady abdominal pain and jaundice should necessitate a doctor's visit, whether the cause turns out to be cancer or another colorectal issue. The earlier cancer is discovered, the more likely treatment is to be successful.
So, whether you've been suffering silently for a while or recently undergone colorectal health issues of any kind, talk to your primary care physician about treatment options. If they refer you to someone like Dr. Robinson, know you will be in good hands.