Defining Palliative and Hospice Care is contributed by WhidbeyHealth and is published in 2022 Spring Edition of Vibrant Senior Options Resource Guide.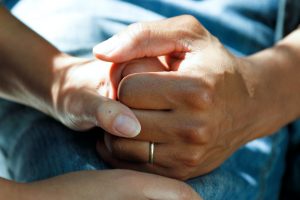 As friends, family, or loved ones age, unexpected events can derail even the healthiest person. Often friends and family need to step in and support when they least expect it. When thinking about your life's health journey, it is important to learn what Palliative Care and Hospice Care are. Also learn when and how you should take advantage of these valuable and specialized services. Let's take a closer look at the Palliative Care and Hospice Care available at WhidbeyHealth.
Palliative care is an interdisciplinary medical approach to helping people living with any serious or debilitating illness. This may include cancer, congestive heart failure, lung disease, kidney failure, liver disorder, Parkinson's disease, Alzheimer's disease, or other forms of dementia. Palliative care focuses on providing relief from the symptoms and stress. Palliative care also provides information, support, and resources to improve the overall quality of life for both the patient and their family.
 
Facing a long-term serious illness is not only challenging for the patient but can be very stressful for their family and caregivers.
Most people don't understand the wide range of services available with Palliative Care and when to ask for their help.
Patients with terminal illness who engage the Palliative Care team early, generally have an easier journey with better outcomes, especially when transitioning into Hospice Care.
Hospice teams provide family-centered, holistic, and compassionate end-of-life care for people with terminal illness. They help manage pain and symptoms, provide medication, and supplies, as well as emotional support and respite for caregivers.
Hospice care is appropriate when the patient, patient's family, or patient's physician determine the goal is comfort and quality of life. This determination  includes no further tests, procedures, or treatments.
At WhidbeyHealth, our Hospice Care team works with each patient to determine their goals. Are they looking for quality of life or length of life?
Often patients and/or their families wait until the very end before introducing hospice and miss the opportunity to have the benefits, resources and support available.
Ideally a patient would be in Hospice Care for 3-6 months. During this time the WhidbeyHealth team will work with each patient to develop a plan based on their individual choices and circumstances. Hospice care is typically provided at the patient's home, allowing them to spend their final months surrounded by loved ones.
End of life does not have to be a crisis. WhidbeyHealth Hospice Care helps patients, and their families feel more prepared and comfortable, providing a dignified end-of-life journey. We offer informational visits for those looking to learn more and better understand the benefits of each service.
Insurance for Palliative and Hospice Care
Medicare, Medicaid, and private insurers typically cover palliative and hospice care services. It is similar to seeing other specialists such as a cardiologist. Your primary care physician or specialist can refer you to Palliative and/or Hospice Care, or you can contact us directly. Whether you or your loved one needs help with recovery, ongoing support with a serious illness or compassionate end-of-life care, our interdisciplinary team offers an individualized approach to meeting your specific needs.
Learn More About Palliative and Hospice Care