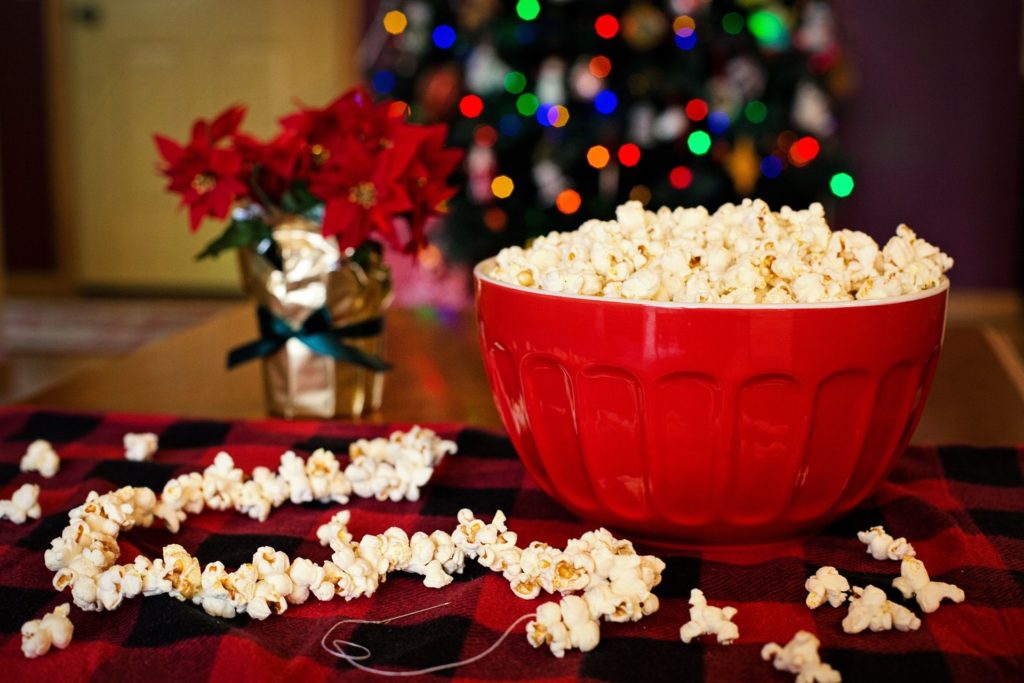 This article was first published on November 27, 2017, and updated on November 15, 2018. It was previously entitled, Grandparents and Christmas Gifts.
Early December—that time when you wake up each morning with one question on your mind: "What on earth am I going to give my loved ones for Christmas?" Sometimes the ideas come like a snowstorm. But often you can't seem to come up with just the right gift for people you treasure. With some research and thinking, here are a a few ideas:
Movie Night at Home:
This is a gift that anyone would love! Provide the snacks that make for good movie night. Trya mix of home-made goodness or a quick purchase of miscellaneous goodies. Home-baked chocolate chip cookies have always been a hit, along with a side of popcorn balls and some hot chocolate keep everyone warm. Popular items from the store may include any favorite candies. M&Ms come to mind. Think of what the gift receiver may want to snack on for a movie. Do the teens drink sodas? Would their parents rather drink coffee or try a new tea with a movie? For those people who don't eat gluten, there are some good baking mixes for brownies or cookies at health food stores.  Another idea may be a gift certificate for a take-out dinner from a favorite restaurant. Stuff these miscellaneous items in a gift bag or box.
Considerate Gifts for the Grandchildren:
The choices are numerous for every age imaginable! Ideas include electronic tools and  toys, while some ideas are as simple as wood building blocks. What does one do? Look at several ideas:
Always consider the age of the family member you want to buy for. Is the gift age-appropriate?
Does the family have enough space for a large gift? Consider how your gift with fit into the family home.
Buy gifts that do not require a lot of supervision.
Would the parents like a toy with a lot of noise?
Consult your grandchildren's parents to be sure you do not get something special they wanted to buy for their child.
Children within a similar age group may enjoy the same or similar items, and you avoid playing favorites.
Most of all, consider their parents' values and styles. If you are not sure, ask them for ideas!
Shopping can be fun, when you get around to it! If getting out is difficult or unrealistic for you, think about the ideas below to ease that shopping frenzy:
Purchase Christmas gifts online in November or early December.
Find out about a favorite book series or author and add a new book to the collection.
For those hard-to-buy-for ages, find out their favorite coffee place or retail store and give gift cards!
For those with great needs:
Unfortunately, children living in poverty need the basics with some special touch. This varies from school supplies to clothing to simple toys. Look into local charity organizations for help if you do not have the someone special in mind for gift-giving.
The gift of time:
First of all, remember that many children have all that they need. Second, keep in mind that the best present you can give this December is also one of the hardest to find: Time. Whether watching a Christmas play, baking gingerbread, walking the mall, or simply sipping hot chocolate together, time is of great value. Just spend a few hours doing something meaningful and fun together. Once a year, my family enjoys taking a night drive to view Christmas lights around town.
Way back in the 1970's, my mother placed gift certificates for a favorite fast food restaurant under the tree. Not expensive, just enough for a burger, ice cream, cookies, or coffee. That large envelope under the tree held a much-looked-forward-to-outing! Hence, she would take a bunch of us in the family, children, teens, and adults alike, for a dessert outing a day or two after Christmas. This made for such a fun memory and family outing!
Quality time spent with family or friends shows a spirit of deep care and genuine love. An hour together in a coffee shop blesses us during a busy season. Cherish a December afternoon with someone you hold dear. Consequently, precious memories are made, and those will last a lifetime.
Don't have the time, energy, or finances for gift-giving?
Nothing needs to be complicated or expensive. For example, a special note of love, maybe decorated with stickers, is something that could be treasured for years to come!
Of most importance, give with kindness, gentleness, and love for the receiver! Now that can never be measured by the size or the expense of the gift!
Christine Blankenship, Editor
Resources – Vibrant Senior Options
© 2019 Vibrant Senior Options
Other Holiday Articles
Seven Reasons Seniors Might Feel the Holiday Blues
Serving Northwest Washington, including Whatcom, Skagit, and North Snohomish Counties