Article Contributed by  Lauren Fritzen at Cascade Prosthetics & Orthothics | Fall, 2019
The Story Begins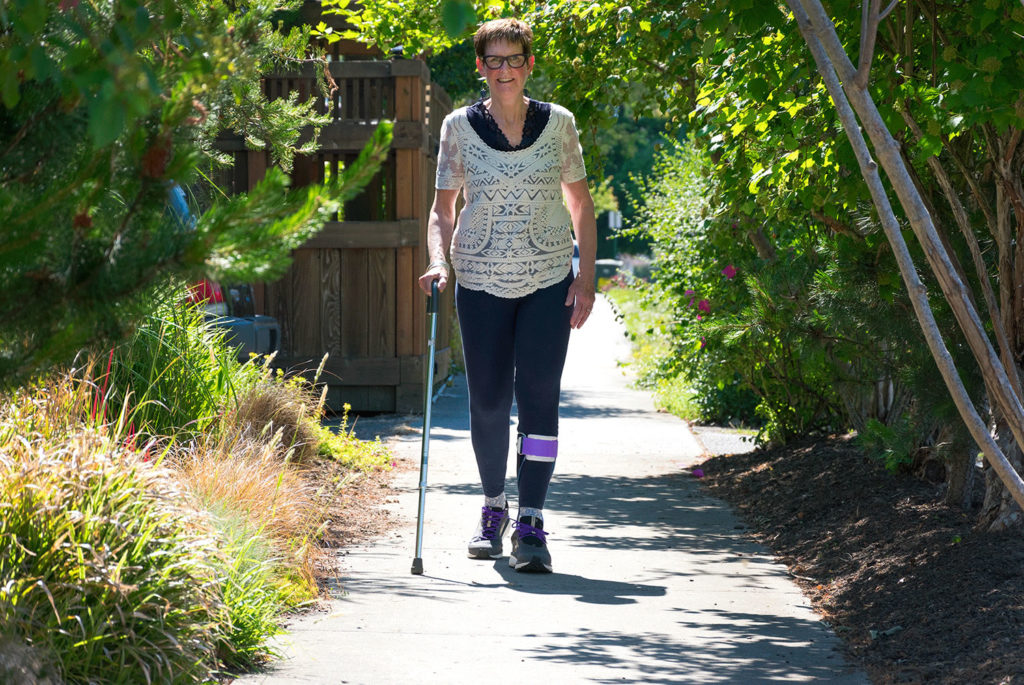 On a winter day in 2017, "Mary H." came home complaining to her husband of a terrible headache. As her condition quickly deteriorated, she was rushed to PeaceHealth St. Joseph's Medical Center in Bellingham. It didn't take long to discover the cause, hemorrhagic stroke. Mary underwent emergency surgery. Over the next few weeks, she recovered in the hospital. Although recovery went well, the stroke resulted in some paralysis on her left side and trouble speaking and swallowing.
Next Step: Physical Therapy
As her condition improved, Mary was moved to a rehab facility for intensive physical and occupational therapy. A few weeks later she was home. With continued outpatient physical therapy, she reached most of the goals of increasing strength and mobility. Although she made excellent progress, her left ankle was not cooperating. The stroke had left her lower leg muscles very tight, and she lacked the range of motion for a normal gait. Her need for a wheelchair continued. Her physical therapist referred her to Cascade Prosthetics & Orthotics to be evaluated for an ankle-foot brace.
A Good Working Relationship
Mary met with Cindy Diener, one of the University of Washington-trained practitioners at Cascade's Ferndale clinic. They discussed her mobility issues and her therapy goals. A good working relationship was established immediately. "My initial assessment of Mary was how motivated and engaged she was in her own rehab. She was working with the physical therapists and doing all the exercises they had given her as a home therapy program. Mary was completely determined to do whatever it took to get back what she had lost after the stroke," says Cindy.
Mary was impressed with the level of service and caring attitude of everyone she met at Cascade. "With Cindy's expert care and the staff's help with insurance billing, I knew I was in good hands," says Mary.
Regaining Mobility
Cindy felt Mary would benefit from an ankle-foot brace called the DAFO FlexiSport (manufactured by sister-company Cascade Dafo). "With her lack of ability to control the movement of her left foot and ankle, I knew the brace would help her with walking. The brace would also make her safer and less fearful of falling. The brace improved her foot and ankle position and helped her gait by providing stability and symmetry while she walked," says Cindy.
Within weeks of receiving her brace, Mary transitioned from the wheelchair to a walker. She increased her strength with continued physical therapy and daily neighborhood walks. As her gait improved, she began the transition to a cane. She is regaining her mobility
Doing the Activities that She Loves
A year later, Mary's mobility is still improving, and she is back doing the activities she loves—gardening, swimming, walking, and traveling. "Of course, I'm grateful to be alive," she says. "But beyond that, I'm determined to regain as much independence as I can. Cindy and the team at Cascade have been true partners in my journey, and I'm so thankful for them."
This article was formerly published in the Fall/Winter 2019/ 2020 Edition of Vibrant Senior Options Resource Guide.