Kelly Boardley, BSN, CEN
Skagit Regional Health Cardiac and Stroke Coordinator 
Published in Vibrant Senior Options Resource Guide, Fall-Winter, 2021
Stroke is the leading cause of death in the United States. It is also a major cause of serious disability for adults, according to the Centers for Disease Control. The good news is that 80 percent of strokes are preventable by making slight lifestyle adjustments, such as controlling blood pressure and cholesterol levels and taking prescribed medications.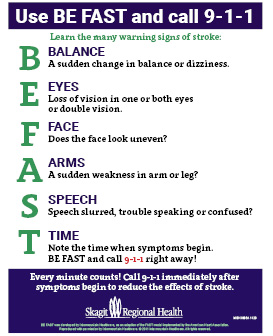 Stroke is Brain Attack
A stroke is sometimes called a brain attack. It happens in one of two ways: An ischemic stroke (when the blood supply to the brain is blocked) or hemorrhagic stroke (when a blood vessel breaks inside the brain). There are different treatments based on the type of stroke a person is experiencing and when the symptoms start.
Time is Brain – Immediate Action
In all cases, it is essential to call 911 right away when a person starts to see changes from their baseline (See BE FAST). Time is brain.
Primary Stroke Care
Skagit Regional Health is a Primary Stroke Center certified by DNV-GL, a designation that indicates Skagit Regional Health provides high-quality treatment for a broad range of stroke conditions, is able to provide acute therapies, and offers stroke-specific inpatient care for stroke patients. The majority of stroke patients who are brought to the Emergency Department are managed within the Skagit Regional Health system, which allows patients to stay in the community where they live while receiving excellent care.
Appropriate Treatment
Skagit Regional Health conducts essential tests to determine what type of stroke a patient is having, and they provide appropriate treatment through state-of-the-art medical management. If a patient is a candidate for clot-dissolving medication, the Intensive Care Unit at Skagit Valley Hospital is equipped and has specially trained staff members to care for these patients.
Telestroke Partners and Specialized Procedures
In certain circumstances, patients may be eligible to receive specialized invasive procedures involving a neurointerventionalist to assist in minimizing stroke deficits. In these situations, patients are transferred to the system's telestroke partners. Skagit Regional Health has a partnership with Swedish/Providence for the telestroke program. Skagit Valley Hospital has been a partner with the telestroke program for many years and, as of May 2021, Cascade Valley Hospital went live with the program.
Video and Audio Technology
Using video and audio technology, the program allows for 24/7 remote access to specialized neurology services and specialists with Swedish and Providence for patients who need an urgent consult. This specialized, immediate consultation, in conjunction with the expertise of Skagit Regional Health's providers, allows the team to collaborate to make critical decisions about the appropriate treatment plan for stroke patients.
Telestroke Program: Conduit to Emerging Treatment
This partnership provides a conduit to emerging treatment for a stroke such as endovascular treatment made available through this partnership. Endovascular treatment, available at Swedish and Providence, is done only by cerebral vascular experts who use catheterization treatment. These procedures open vessels in the brain, similar to those procedures for coronary artery disease that open vessels in the heart. With the telestroke program, the team is able to identify appropriate candidates for these procedures and transport patients by helicopter to ensure urgent evaluation and additional treatment.
Other articles from Skagit Regional Health