by Anthony Hamilton, Fitness Trainer | Ageless Fitness - 2021, Spring/Summer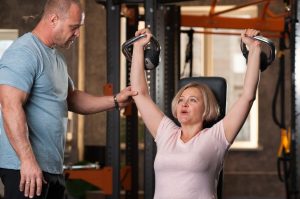 Lower or Prevent Heart Disease.
People say they want to stay "young at heart." But are they willing to lift weights to do it? Research shows they should be.
In one survey of 4,000 people, scientists concluded that weightlifting has a greater effect of lowering the risk of heart disease than cardio exercise. The study also supports earlier views that weightlifting is better for the circulatory system because the "oxygen expenditure" is more intense. This can help lower or prevent heart disease.
How Much Strength Training is Enough?
How much is enough? Surprisingly, as little as one hour per week. "Getting in the right amount of weight training is easier than you think," says Eric L'Italien, a physical therapist with the Harvard-affiliated Spaulding Rehabilitation Network. "And devoting just an hour per week may improve multiple markers related to heart health."
Help Prevent Heart Disease
Heart disease is the country's No. 1 killer and is preventable. Exercise and eating right are the top tools to improve our heart health and lower our risk for heart disease and heart attacks, according to the American Heart Association.
Check out www.Agelesswa.com for more strategies on improving strength and maintaining an active lifestyle

Ageless Fitness is a personal training program designed with your long-term health and longevity goals in mind. You don't want to just grow old gracefully, you want to live life to the fullest!

Ageless Fitness trains you to maximize your functional strength, power, balance and energy. Doing so allows you to excel in all the activities that you love in life, for as long as possible.
Other Articles by Anthony Hamilton
This article was first published as Prevent Heart Disease Through Strength Training in Vibrant Senior Options Resource Guide in Spring/2021.
Back to Vibrant Senior Options Home Page